Medical Facilities Cleaning
Top Rated Local® Commercial Cleaning Company
Medical Facility Cleaning Services
Privileged to serve medical facilities in our community, Smith's Janitorial uses world-class cleaning equipment and industry best practices to protect medical professionals and their patients. We've been perfecting our craft for more than two decades, and we're on a mission to be the janitors you can always trust. Contact our cleaning crew today to learn more!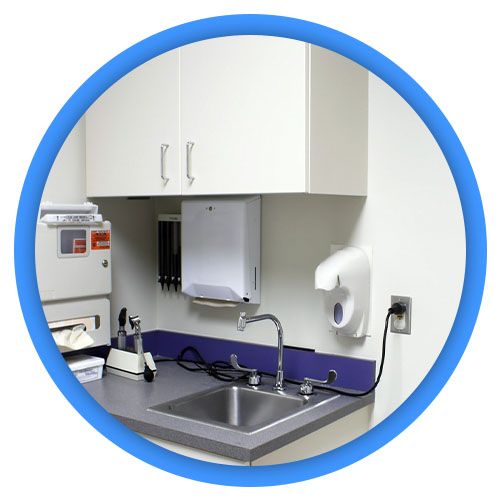 World-Class Medical Janitorial Services
Why should you choose Smith's Janitorial? We care about your safety as well as the safety of your patients. We also have the specialized knowledge, equipment, and products to clean and sanitize everything from the waiting room to the nurses' station. We're simply the best at what we do. Whether you need a one-time cleaning or regular sanitation, you can choose Smith's Janitorial with confidence. Always punctual and communicative, we'll get our work done outside of your business hours so you can focus on serving your patients. Contact us today for all your medical facility custodial services!
At Smith's Janitorial, we know that medical facilities require a different type of cleaning service than other businesses. We have the right products, tools, and equipment to create a clean environment for both you and your patients. From the waiting room and the nurses' station to the restrooms and labs, you can trust that we will provide the highest standard of cleaning and sanitization for your medical facilities.
For more than two decades, our Top Rated Local® commercial cleaning company has served businesses and medical facilities in Centre County and the surrounding areas. Our team has the experience, expertise, and equipment to provide the sanitation services you need. Contact us today for a quote on our medical facilities' cleaning services.
Prevent Cross-Contamination
In medical facilities, there are plenty of potential sources for cross-contamination. From hand-washing stations and break-room counters to floors and shared technical devices, it's important to ensure that each of these items is properly cleaned and sanitized to provide the highest level of protection for you and your patients.
OSHA COMPLIANCE AND SAFETY STANDARDS
As a leading commercial cleaning and janitorial company, we prioritize OSHA compliance and safety standards when providing medical facility cleaning services. We understand the critical nature of maintaining a safe and clean environment in medical settings. We implement strict protocols for cleaning high-touch surfaces, such as waiting areas, restrooms, and patient rooms, to minimize the risk of infection transmission.
Improve Overall Health
Usually, when people visit a medical facility, it is due to the fact that they are unwell, which means that regular cleaning services are highly important. You want to make sure that you provide a safe work environment for your staff as well as the patients who come into your building each day. At Smith's Janitorial, we can help you improve the overall health and safety of your medical facility with our commercial cleaning services.
When you need world-class medical cleaning services, be sure to contact our Top Rated Local® commercial cleaning company. We have served a wide variety of businesses in Centre County and the surrounding areas for more than two decades, and we would love to provide the cleaning services your medical facility needs.
THE IMPORTANCE OF CLEANLINESS IN MEDICAL FACILITIES
Maintaining a high level of cleanliness in medical facilities is vital for the health and safety of patients and staff. Cleanliness in medical facilities goes beyond appearance, it is about infection control and prevention. We pay attention to details and use industry-grade disinfectants and sanitizers to ensure thorough removal of pathogens. Our cleaning professionals are trained to follow strict protocols for cleaning medical equipment, handling waste, and maintaining clean and sterile environments.
With our medical facility cleaning services, you can trust that we will create a safe and sanitized environment for patients, staff, and visitors, supporting the overall well-being of your facility.
We're Here to Help With all Things Cleaning
With Smith's Janitorial, you're more than just a client — you're family. For the skill, attention, and dedication you deserve, bring us on board. Keeping your medical facility looking its best, we won't ever let you down. Get in touch today.